Culturally Responsive Teaching Checklist | Bite-Sized PD for Educational Equity
Posted on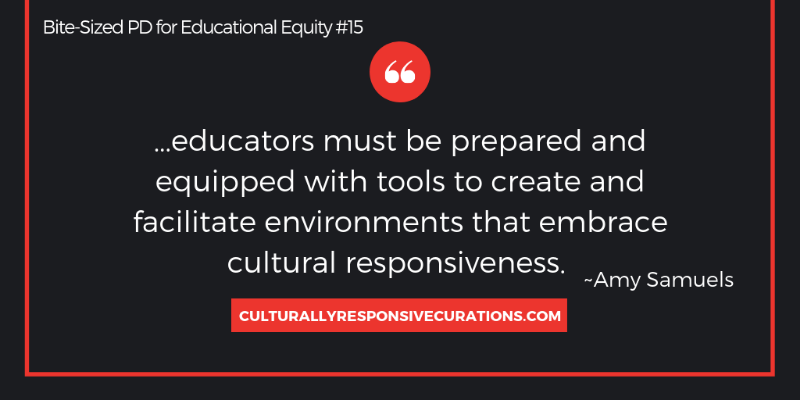 Top 10 Culturally Responsive Teaching Checklist
Today's Bite-Sized PD for Educational Equity was inspired by:
Exploring Culturally Responsive Pedagogy: Teachers' Perspectives on Fostering Equitable and Inclusive Classrooms | Amy Samuels | South Regional Association of Teacher Educators 
This short article is full of great insights, strategies, and reflections about the practicality of implementing culturally responsive teaching practices into one's classroom. If you have time, I strongly suggest you read this nine-page article. If not, keep reading. 
Top 10 Benefits of Culturally Responsive Teaching
Stronger teacher-student relationships

Stronger student-student relationships

Greater understanding across cultures

Greater cultural competence among teachers and students

More inclusive world-views developed among students

Safer classroom culture for students to take risks

Increased esteem for self and others.

Positions teachers and students as co-learners and co-facilitators of learning.

Increased student engagement and academic outcomes

Exposure to different world views and perspectives concerning systemic inequality

 
Top 5 Challenges of Culturally Responsive Teaching
Lack of comfortability with facilitating discussions about controversial topics (e.g., Black Lives Matters)

Religious beliefs or personal values that conflict with student identities, family values, etc. (e.g., LGBTQ students and families).

Unwillingness or inability to reflect on one's own biases, prejudices, and privileges.

Confusion about the difference between treating students equally versus equitably.

Lack of time and resources to acquire and implement culturally responsive teaching strategies.
Culturally Responsive Teaching Checklist
Root classroom dialogue at the intersection of student identities, the current socio-political context (e.g., race, class, gender), and systemic inequality.
Establish classroom norms to ensure that multiple perspectives/voices are represented in all classroom discussions and activities.
Operate as the facilitator of student-led discourse and learning activities.
Develop a culture of risk-taking among students through team building activities and scaffolding.
Commit to addressing, through education, any and all incidents of racism, prejudice, and disrespect to establish an environment of trust and respect.
Diversify student groupings to ensure multiple perspectives are represented.
Create opportunities for students to choose how to demonstrate their learning.
Determine students' prior understanding of content ahead of lesson planning through surveys, 1:1 check-ins, etc. to ensure that how and what you teach reflects who you teach.
Conduct an audit of all classroom materials to make sure they are inclusive of all students.
Integrate the representation of marginalized groups throughout the year versus only during calendar celebration months (e.g., Hispanic Heritage Month).
As such, a change in basic assumptions is necessary to highlight cultural responsiveness as an educational asset, as well as cultural identity and integrity as something to be fostered positively and embraced.
~Amy Samuels
---
Share this post
---
---